About Us
Established in 1991, Alloy Polishing Co. has gone through many changes, the most noticeable being our name. Originally named Alumachrome Polishing and Truck Detail, the business offered mobile metal polishing and truck detailing to the trucking industry.

Quickly gaining a reputation for quality, the company soon received requests for polishing automotive items. Since these parts are processed differently, the appropriate equipment had to be acquired. With a couple weeks of 'volunteer' work in a production shop back East we were ready to expand into this type of work - all the while offering the mobile polishing and pressure washing service.

Today, we are focused solely on polishing and only those items 'small enough to get through the front door'. This includes alloy wheels, engine parts, stainless trim, production work, antiques, and many other 'interesting' items that customers have brought in to be processed. We have also had the opportunity to serve customers literally from all over the United States.

Bigger is not always better. We have chosen to remain a small, service oriented company, focusing on the utmost in quality control, treating each customer and each job individually. This is also reflected in our production work, offering unsurpassed quality, and timely service.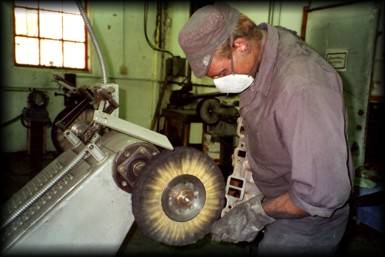 About the owner: My name is Dave Barr, and at the age of 25, I was introduced to polishing while restoring a set of wheels on a car I was working on. The rest, as they say is history. I was so intrigued by the results, I researched the subject, only to learn that metal finishing is actually a big part of our daily lives From lamp fixtures to silverware, metal finishing is everywhere. Presently, I personally do all of the custom polishing, insuring the quality finish and damage free processing of your unique items.

The training I received as a polisher, is the best kind: experience, I am completely self -taught, although I did have help getting pointed in the right direction. Once on my way, I took it upon myself to learn to be the best polisher there is. Some of the advantages to this are: I didn't pick up any other polishers bad habits, nor did I pick up the ability to say 'that's good enough' when it comes to the quality. The disadvantages would be the many long hours spent perfecting the art. Often times our customers are amazed at the transformation their items have gone through, and are very happy with the finished product, and it's at this time, all the hours spent are worth every minute.

For twenty-five years now, we are proud to offer a true, show quality polishing service that meets and often exceeds our customers expectations, whether you have one set of wheels, or an ongoing production contract, you will be able to see what show quality is all about. We look forward to serving you, as a customer of Alloy Polishing Co.